In international transport, a means of transport may pass through several countries before the goods arrive at the destination country. This is called international transit. This is especially true for road transport. While it is important for carriers to be able to proceed from transit countries with minimum formalities (documents, stops, waiting times, inspections, deposit payments), it is important for authorities in transit countries to determine the validity of the transit. It is quite an important part of transit transportation while avoiding unnecessary risks and actions. Transit transport can be complicated by non-harmonized national and international regulations, adding serious and costly conditions such as:
Mandatory involvement of operators in the transit country (eg national carriers, national customs brokers),
Mandatory use of facilities such as customs warehouses for goods temporarily stored before further transport,
Mandatory change of modes of transport (for example, Alpine countries where trucks must be put on trains to cross the mountains),
Return shipping is not allowed in the transit country,
Additional document requirements in transit countries,
Inefficient border crossings resulting in waiting times and additional actions.
Solutions
Transit transport is mainly regulated by cross-border agreements. These are bilateral or multilateral agreements covering market access in general terms and customs clearance arrangements including border transactions. Customs transit agreements aim to facilitate transit transport using a common transit document, mutually agreed checks and seals, and a cross-border guarantee scheme.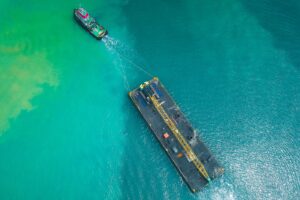 The main international operational system for transport transit is the TIR Convention, drafted by the UNECE Internal Transport Committee, which establishes that goods transported under seal and in approved vehicles should not be subject to physical inspections, granting tax exemption to imported vehicles. Payment of relevant duties and taxes is suspended until the goods arrive at the destination. Today, there are 68 Contracting Parties to the TIR Convention worldwide. The Convention for the International Carriage of Goods under the TIR Carnet (TIR) was made to simplify and harmonize the administrative formalities of international road transport. The TIR Convention establishes an international customs transit system that provides maximum convenience for the transport of goods.
In closed vehicles or containers,
From the customs office of departure in one country to the customs office of destination in another country,
Without requiring extensive and time-consuming border controls at intermediate borders,
At an affordable price,
It also provides the necessary security and guarantees to the Customs authorities.
TIR System
The TIR system does not only cover customs clearance by road, but a combination with other modes of transport (for example, rail, inland waterways and even maritime transport) is possible, since at least a part of the total transport is done by road. In 2003, the eTIR Project was launched, which provides an exchange platform for all actors involved in the TIR system known as the "international eTIR system", namely customs authorities, beneficiaries and chains of guarantee.
The eTIR international system aims to ensure the secure exchange of data between national Customs systems regarding the international transit of goods, vehicles or containers in accordance with the provisions of the TIR Convention and to enable Customs to manage data on guarantees issued by guarantee chains. To holders authorized to use the TIR system.
What is Transit Freight Transportation?
Transit freight transport is the passage of goods from a third country without being bound by customs while transporting from one country to another. To give a more detailed definition; delaying customs duties or prohibitions of an item, entering a country by sea or land and then deporting it by sea or land. Transit freight transportation can consist of a single transportation method, or it can consist of more than one transportation method called combined transportation. Apart from this, methods such as RoRo ships, container transportation or liquid substance transportation by pipelines are also transit freight transportation methods in many countries.
Documents Required in Transit Freight Transportation
Documents received from trade boards are issued separately for each transport vehicle. Also, every transport vehicle must have a transport note called CMR. Information such as the sender, region, quality, net and gross weight of the goods, packaging type, parcel number and license plate are written on this document. The buyer confirms the document at the delivery point and notifies the cargo officer if there is any damage or deficiency.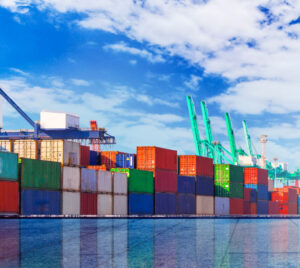 Countries that are parties to transit freight transport mutually set an annual road transit quota and relevant documents are drawn up. These documents, which are required by law to be used by the transporters, must be obtained from the relevant country agencies of the International Transporters Association.
Developments in Transit Freight Transportation
In our country, transit freight transportation started to develop in the 60s and experienced a great leap in the 70s. Among these developments, the increasing oil revenues of the Middle East countries and the Iran-Iraq war in the 1980s were effective. Compared to transportation revenues, the amount of revenue from transit freight transportation increased from 300 million dollars in 1980 to 600 million dollars in 1987. Today, this figure has reached a fixed capital value of 1.5 trillion liras. In this way, it is not only a source of income for approximately 2.5 million people, but also supports the employment of our country.