From the appearance of the first units in the 50s to the present, a wide variety of marine and multimodal containers have emerged as a response from the logistics chain to ensure the correct transport of cargo. Important points to keep in mind:
Size and weight of the load
Solid or liquid nature of the load
Standardization degree of cargo
Type of crane and spreader required for the load
Dry Storage Container
Dry storage containers are the most common containers used in the marine industry. They are available in lengths of 20, 40 and 45 feet and are designed to transport dry goods. These containers do not allow for temperature control, so they are not suitable for transporting food or chemicals that require refrigeration. There are approximately seventeen million intermodal containers in the world, and the bulk of the world's long-distance transport generated by international trade is transported in shipping containers.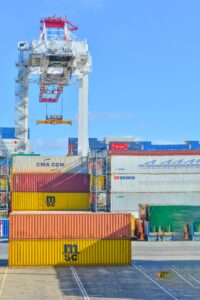 His inventions made a major contribution to the globalization of trade in the second half of the 20th century, significantly reducing the cost of transporting goods and therefore long-distance trade. There is a wide range of spreaders according to the number of cycles and the type of crane to be used.
Flat Rack Container
A flat rack container has no top and only two sides. This makes room for heavy loads to be placed in the rack from above or from the side. Most flat rack containers are either 20 or 40 feet long and are made of steel for strength and durability. Some flat rack containers are collapsible and some have additional walls that can be attached to the frame.
Open Top Container
This type of container is basically a Dry Storage type but without a top. This ensures easy loading of bulk cargo. It has a plastic roof structure that can be fixed to the container with ropes, providing protection against rain and other forms of precipitation. Such equipment is carried by Elevation Frames as the load may protrude above the container.
Open Side Storage Container
An open sided container has a long side that can be opened completely. This is beneficial for large merchandise that may be difficult to pass through the end of a tunnel container or dry storage container. The side opens as if it were made of two large doors, but can still be fixed to protect the goods inside.
Refrigerated ISO containers
A refrigerated container or chiller is an intermodal container used in refrigerated intermodal freight transport for the transport of temperature sensitive cargo. While a reefer may have an integrated cooling unit, cooling points rely on external power from electrical power points at an onshore field, a container ship or a dock. While being transported on a trailer or railroad car on the road, generator sets can be powered by diesel-powered generators installed in the container during road trips. Refrigerated containers can control temperatures ranging from -65 °C to 40 °C.
ISO Tanks
Tanks are storage containers designed to hold liquids. They are usually produced from anti-corrosion materials due to the chemicals they carry. Tanks can also be used to store dry products such as sugar, but they are mostly used exclusively for liquids.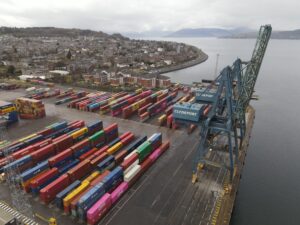 Half Height Containers
These containers, mostly made of steel, are half the height of full-size containers. Especially coal, stone, etc. It is used for goods that require easy loading and unloading. This type of container is increasingly used for Containerized Bulk cargo. This type of container can be transported and lifted with standard spreaders, but has recently been used in the bulk market with rotary spreaders such as the RAM Revolver.
Special Purpose Containers
Special purpose containers can be made in almost any shape and size. They are used to transport items that require a special container to be made for them. Most shipping companies avoid the use of special purpose containers as much as possible because they are costly to build and transport. However, this is required for certain loads.
Container Shipping: Everything You Need to Know
Especially in the maritime sector, international goods transport is mainly based on container transport. These containers are produced in standard sizes and can be transported efficiently over long distances and can be transferred from a single transport vehicle without being opened. Standardized containers have transformed the shipping and shipping industry, allowing goods to be easily transported by rail, road and ship as containers can easily fit into different modes of transport. The standardization of containers is roughly the $3 trillion trade that goes through our transportation systems each year, from aerosol cans to zebras! So how did this transportation system come about and which container shipments can be made? We talk about that in this article.
Container Transportation: History
Modern container shipping celebrated its 50th anniversary in 2006. Almost from the first voyage, the use of this mode of transport for goods increased steadily, and in just fifty years, container ships could carry around 60% of the value of goods shipped by sea.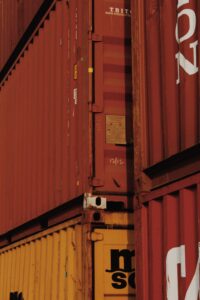 The idea of using some kind of shipping container was not entirely new. Boxes similar to modern containers were used for rail and horse transport in England as early as 1792. The U.S. government used small standard-sized containers during WWII, which proved to be a way to quickly and efficiently unload and distribute materials.
From Past to Present
Containers can be moved seamlessly between ships, trucks and trains. This will simplify the entire logistics process and eventually the implementation of this idea will lead to a revolution in cargo transportation and international trade in the next 50 years. This developed mode of transportation provides great benefits to international trade in terms of reducing transportation costs, damage to goods and theft. As the product stays in the container from the start, the distribution chain from the producer to the end customer is simplified and every move is automated using specialized tools.