With over 96 million active buyers worldwide, Etsy is one of the largest online marketplaces in the world. If you're a creative entrepreneur with a product to sell, this is the place to be. Read on to learn everything you need to know to create your own Etsy shop and start selling today. We have arranged 10 simple steps for you to start selling on Etsy in this article. 
Create a Free Account
Everything should be in order and neatly. Go to etsy.com/sell and click "Get started". Enter your email address and follow the prompts.
Open Your Showcase and Choose Preferences
This is how you register your free account. Now select your store language, country and currency. You will also be prompted at this step to choose a store name. This part can be tricky, especially if you're starting from scratch. Here it is possible to list a few tips on what you need to avoid confusion:
Combine a word that conveys the emotion you want your brand to evoke with a word that expresses whatever it is you're selling.

It can be helpful to use a unique word or phrase inspired by something abstract, such as nature, a foreign language, or a musical instrument.

It can be helpful to use a unique word or phrase inspired by something abstract, such as nature, a foreign language, or a musical instrument.

Using your own name can also be an effective solution.
It's always good to keep in mind: At this stage, you can change the name of your store as many times as you want. However, if you later want to change the name of your store when you start selling, you can only do so once. 
Fill Your Store With Products
After the setup of your store is complete, it's time to add your product listings. You can add up to 10 photos for each item. And if you really want to level up, you can also upload a 5-15 second video. Here you will include the details of your listing, assign it a category, and add your inventory along with product descriptions, pricing and shipping information. You can also decide if you want to use Etsy ads to market your shop. Once you have added all the details for your item, you can press "Publish" or "Save as Draft" and return to the item later.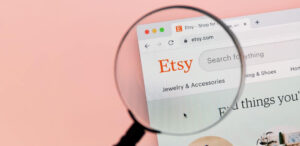 Decide How You Want to Get Paid
One of the reasons you want to start selling on Etsy is to make some extra money, right? For this, after you create your product listings, you need to tell Etsy how you want to be paid. Add your personal information and address and link your bank account. Setting a payment method on Etsy is often much easier than you think.
Choose Shipping Options
You have two options when it comes to shipping:
You can choose your shipping preferences on a per product basis, or,

You can apply your shipping settings to your entire store.
Let's say you have an item that doesn't cost much to ship, and you can offer free shipping for that single item. However, if your store preference is to have your customer pay for shipping on the more expensive items in your store, you can do that too.
Set Up Billing For Customers
Etsy Payments is the simplest way to handle billing for both you and your buyers. When customers sign up, they can choose from a variety of payment options (such as credit card, debit or Apple Pay) and pay in their local currency.
Connect Your Showcase to Your E-Commerce Website
Etsy is the best if you have an existing e-commerce website for your business. Etsy works with many eCommerce platforms such as Shopify, Magendo, and WooCommerce, so you can connect your existing site to your Etsy storefront. So, if you're selling a product on Shopify and also want to be an Etsy seller, you can do so using the handy Shopify integration. You can also easily manage customer support across your entire Shopify store with the help of Heyday Shopify integration. Heyday is a conversational AI chatbot that lets your customers feel supported 24/7 without adding extra work to your plate. This conversational AI chatbot integrates with all your apps, from Shopify to Instagram to Facebook messenger. It makes it easy to support customers and helps take the stress out of online sales.
Some of Heyday's benefits can be listed as follows:
It serves to provide product recommendations to your buyers,

It makes it easier to follow orders,

Automates Frequently Asked Questions and,

Allows you to consolidate customer conversations from multiple channels into one inbox.
Customize Your Etsy Showcase
Remember: Your Etsy showcase is your customer's first impression. Take some time to understand what visual story you want to tell. 
Etsy Tips
Sharing your store on social media is a great way to promote your products and attract potential customers. For example, selling on Instagram can help you reach your target consumer and make more sales. In 2021, the platform had 1.21 billion monthly active users. Marketing and selling on Pinterest is another great way to add to your marketing strategy. In addition to being the world's 14th largest social network with 459 million monthly active users, shopping interaction continues to increase every year. Need a tool to manage them all?
Hootsuite makes it easy to manage your social presence, giving you time to focus on the areas of your business. Use it to schedule and publish posts, engage your audience, and measure results, all from a single dashboard.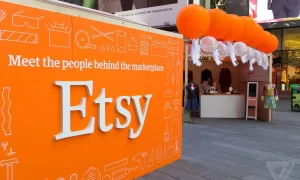 How Much Does It Cost to Sell on Etsy?
While it's free to set up your Etsy shop, there are certain fees you need to be aware of as a seller.
Hosting Listing Fees
Etsy charges a $0.20 listing fee for each item you list. Listings expire after four months and automatically renew at $0.20 per item unless you choose not to use automatic renewals. 
Transaction Fees
When a customer purchases an item from your store, Etsy charges a transaction fee of 6.5% of the total order amount. This Etsy fee applies to the total cost of the item (including shipping and gift wrap if you're charged for it). The transaction fee amount will automatically appear in your Payments account.
Additional Advertising and Marketing Fees
If you choose to use Etsy's advertising services to promote your store, extra fees will apply:
With Etsy Ads: Pricing is made according to the budget you set.

Off Site Ads: Fees are applied only when your ad turns into a sale.
Payment Processing Fees
This fee is a percentage plus a percentage of the total selling price of your product and varies by country.
Customs and VAT Fees
If your Etsy store offers international shipping, you'll want to be aware of import taxes, customs duties, and/or other fees imposed by other countries. In most cases, the buyer is responsible for customs duties. If you are a VAT registered seller, you may be required to collect VAT on the products you sell. 
Top Tips for Successful Selling on Etsy
Use professional product shots. One of the easiest ways to sell your products on Etsy is with stop-scroll photography. In fact, good product photography is crucial to your success on the platform. According to Etsy's customer research, product photos are what enable customers to decide whether or not to buy. And in many cases, the quality of your images is more important than shipping costs, reviews, or even the price of the item!